The latest developments of Medis Suite MR and CT
December 2022 edition
Written by Kayleigh Dukker, Product Manager of Medis Suite MR and CT on December 22, 2022
Given the regular posts of peer-reviewed scientific publications on the latest developments of Medis Suite MR and CT. We would like to share these publications with you so that you remain up-to-date about this research as it will help you in your daily practice or research projects.
This is a new blog article series on the latest developments of Medis Suite MR and Medis Suite CT. We are proud to share 5 publications with you, all using Hemodynamic Forces (HDF) to define cardiac function.
Hemodynamic force assessment by CMR in HFpEF: A case control substudy from the HFpEF stress trial.
At the University of Göttingen in Germany, Dr. S.J. Backhaus and his colleagues assessed whether the Hemodynamic Forces solution by Medis applied to CMR data sets can identify functional abnormalities in patients with HFpEF. 68 patients from the HFpEF Stress trial were included in this study. Each of these patients underwent rest and exercise stress right heart catheterization, echocardiography, and CMR. HDF analysis was performed on the CMR data.
All studied HDF parameters revealed impairment of LV longitudinal function in patients with HFpEF compared to non-cardiac dyspnea. Impaired HDF at the systolic peak was associated with cardiovascular hospitalization. The authors demonstrated that HDF can indicate impairment of LV systolic ejection force in HFpEF, which is associated with cardiovascular events.
For further read: click here
CMR-derived LV Intraventricular Pressure Gradients among patients with precapillary pulmonary hypertension.
Dr. J.L. Vos and co-authors under the supervision of Dr. Nijveldt from Radboud University Medical Center, Nijmegen, the Netherlands published an interesting paper about the intra ventricular pressure gradient (also called Hemodynamic Forces; HDF in the Medis Suite MR solution) parameter in patients with precapillary pulmonary hypertension (pPH). As the LV ejection fraction is commonly already preserved in these patients, a more sensitive technique is needed to assess LV dysfunction. In this study 31 pPH patients and 22 healthy controls underwent CMR in which LA strain and HDF (from apex-base) were computed.
Diastolic function was impaired in pPH patients compared to healthy volunteers, shown by a lower LA reservoir and conduit strain, but also by E-wave decelerative HDF. In addition, 11 pPH patients showed reversal of HDF at systolic-diastolic transition. They showed that both LA strain, as well as LV HDF analysis, reveal the impact of pPH on the LV function by altering diastolic function. These parameters could therefore potentially be used as early markers for LV function decline in pPH patients.
For further read: click here
Impact of intraventricular HDF misalignment on left ventricle remodeling after myocardial infarction.
Dr. D. Filomena and his colleagues from the university of Rome have published beginning of this year in the ESC Heart Failure journal about HDF using the Medis Suite MR solution. They aimed to identify in reperfused segment elevated myocardial infarction (STEMI) patients, whether left ventricular (LV) HDF patterns are associated with adverse LV remodeling (aLVr). For this study 49 acute STEMI patients and 21 healthy volunteers were included.
All STEMI patients underwent CMR at baseline and after 4 months follow-up; the LV HDF was computed in both apex-base (A-B) and latero-septal (L-S) direction. The HDF distribution was evaluated by the L-S over A-B HDFs ratio (L-S/A-B HDFs %). At baseline, aLVr patients had a lower systolic L-S HDF (P=0.027) and higher diastolic L-S/A-B HDF ratio (P=0.03). At follow-up in the multivariable logistic regression analysis only diastolic L-S/A-B HDF ration remained the independent predictor of aLVr (p=0.04). The authors showed that diastolic HDF can be used as a predictor of post-infarction aLVr after 4 months.
For further read: click here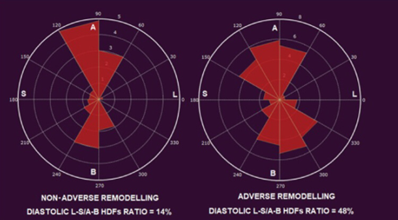 Relation between coronary plaque composition assessed by intravascular ultrasound virtual histology and myocardial ischemia assessed by Quantitative Flow Ratio
In this study, M.R.R. Daal and her team at the Amsterdam UMC assessed the LV Global Longitudinal Strain (GLS) and HDF in mice, one group of 6 healthy control mice and 7 mice with a diabetic mouse model (db/db mice) treated with antibiotic doxycycline. The db/db mice mimic the aspects of human HFpEF, as they are known for diastolic dysfunction with preserved ejection fraction. Both groups had 4 CMR scans between the age of 11-15 weeks.
Both the ejection fraction and the GLS were not significantly different between the groups. The HDF root mean square (RMS), average HDF and the HDF ratio between inferolateral-anteroseptal and apical-basal direction were all lower in db/db mice compared to the control group. Besides that, the HDF parameters showed a signification interaction effect between time and group. The researchers showed that only HDF parameters reflect early alterations in cardiac function, which makes HDF a unique marker for cardiac dysfunction. It therefore can be of added value in (pre) clinical research on early heart failure development and treatment strategies.
For further read: click here
Relation between coronary plaque composition assessed by intravascular ultrasound virtual histology and myocardial ischemia assessed by Quantitative Flow Ratio
Dr. Y-H Loke et al. from the Dept of Cardiology at Children's National Hospital in Washington DC, USA published a very interesting paper in Frontiers in Cardiovascular Medicine. In this work they calculated the Hemodynamic Force (HDF) by a novel mathematical model of wall motion and compared these with the HDF derived from 4D Flow in a cohort of 68 patients with repaired Tetralogy of Fallot (RTOF) and 20 controls. Feature tracking software by Medis (QStrain 2.0) was used to reconstruct RV wall motion. They did not find significant measurement biases between the cine-derived HDF and 4D Flow derived HDF. The authors concluded that RTOF patients have abnormal diastolic HDF that is correlated to pulmonary regurgitation, RV function, exercise capacity and vorticity.
For further read: click here