The latest developments of Medis Suite MR and CT
January 2023 edition
Written by Kayleigh Dukker, Product Manager of Medis Suite MR and CT on January 19, 2023
Given the regular posts of peer-reviewed scientific publications on the latest developments of Medis Suite MR and CT. We would like to share these publications with you so that you remain up-to-date about this research as it will help you in your daily practice or research projects.
This is a new blog article series on the latest developments of Medis Suite MR and Medis Suite CT. We are proud to share 4 publications with you.
Quantification of lymphatic burden in patients with Fontan circulation by T2 MR lymphangiography and associations with adverse Fontan status.
In this study published in the European Heart Journal Cardiovascular Imaging, Dr. A. Vaikom House from the Hospital for Sick Children in Toronto, Canada intended to quantify the thoracic lymphatic burden in pediatric Fontan patients with MRI. The 48 included patients underwent a clinical cardiac MRI including a T2-weighted MR lymph angiography (T2MRL). With the thresholding-based segmentation in the T2-weighted module of Medis Suite MR, they measured the lymphatic volume, which was divided by the body surface area (BSA) to obtain the lymphatic burden.

This quantification methodology turned out to be feasible in pediatric Fontan patients with a reasonable interobserver reproducibility. In addition, they showed that patients with evidence of early lymphatic leak with chylous effusions and prolonged chest tube drainage directly post-Fontan, have a high lymphatic burden in the later follow-up. In addition, with a 95% specificity they demonstrated that patients with late adverse Fontan status have a lymphatic burden above 600 mL/m2.
For further read: click here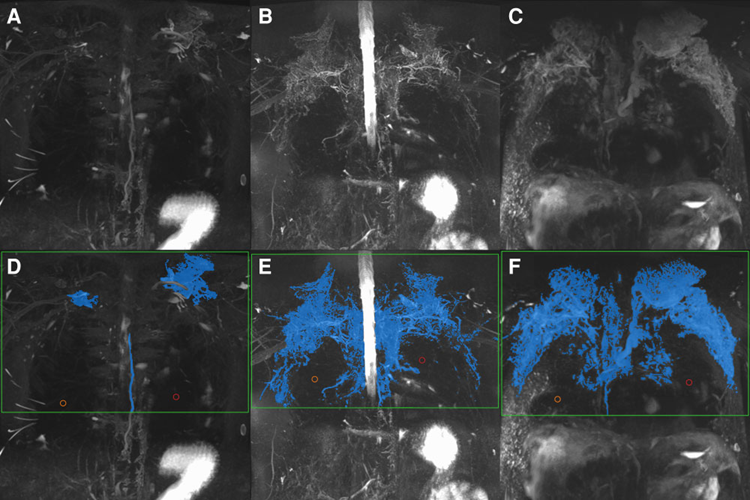 Cardiac Magnetic Resonance predictors of Left Ventricle remodelling following acute ST elevation myocardial infarction: The VavirimS study
Dr. Pica and co-authors of IRCCS Policlinico San Donato, Milan, Italy, performed a multicenter study investigating the left ventricular (LV) remodeling (REM) after ST-elevation myocardial infarction (STEMI) by CMR in the subacute phase (30 days) and 6 months after STEMI. From 193 patients a full set of image data was acquired, those patients were included in this study. The results were published in the International Journal of Cardiology.

At follow-up the ejection fraction had improved in patients both with and without LV-REMEDV [≥12% increase in LV end-diastolic volume index]. On the other hand the EF decreased in patients with LV-REMESV [≥12% increase in LV end-systolic volume index] (p<0.001). The authors concluded that LV-REMEDV might not indicate an 'adverse' but a rather 'compensatory' association with LV-EF improvement at follow-up. On the contrary, LV-REMESV does seem to indicate an 'adverse' phenomenon associated with decreased LV-EF, driven by myocardial infarct size.
For further read: click here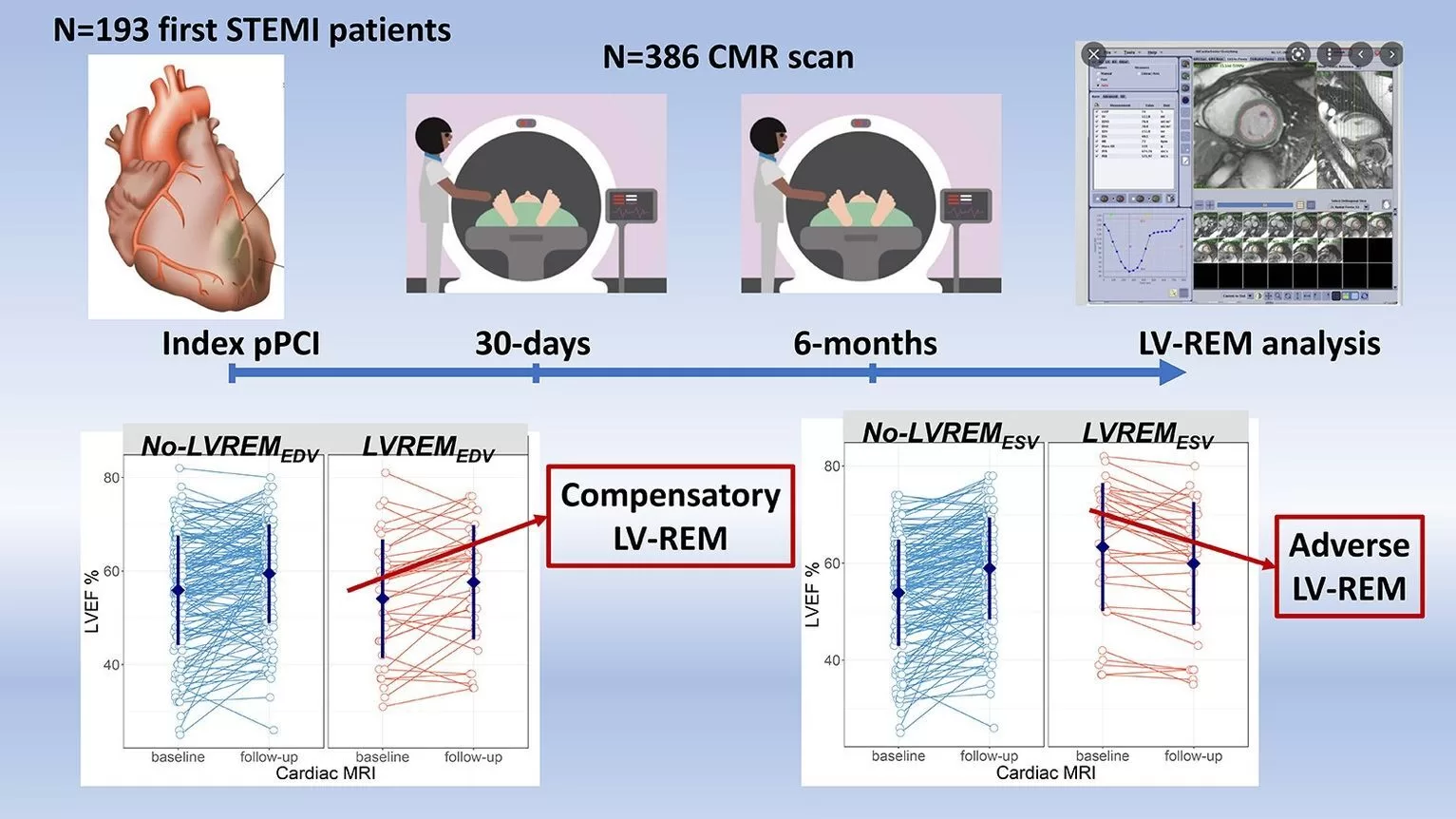 Detection and evaluation of myocardial fibrosis in Eisenmenger syndrome using cardiovascular magnetic resonance late gadolinium enhancement and T1 mapping
In this study Dr. Gong and Dr. Guo and their colleagues at the cardiology department of the West China Hospital aimed to explore the potential associations between myocardial fibrosis, T1 mapping and risk stratification in patients with Eisenmenger syndrome (ES). 45 adults with ES and 30 healthy volunteers underwent CMR to analyze focal replacement fibrosis in the LGE images and diffuse myocardial fibrosis in the T1 mapping images. Their work was published in the Journal of Cardiovascular Magnetic Resonance.

The extracellular volume (ECV) value measured with Medis Suite MR based on the T1 Mapping images was significantly higher in ES patients (p<0.05) than in healthy controls. They found significant correlations between ECV, and the majority of the risk stratification profiles (p<0.05). To differentiate patients with high-risk ES from those with intermediate or low risk the ECV threshold of 29.0% performed well (p<0.001). Therefore, they concluded that ECV may serve as an important imaging marker for the severity of ES.
For further read: click here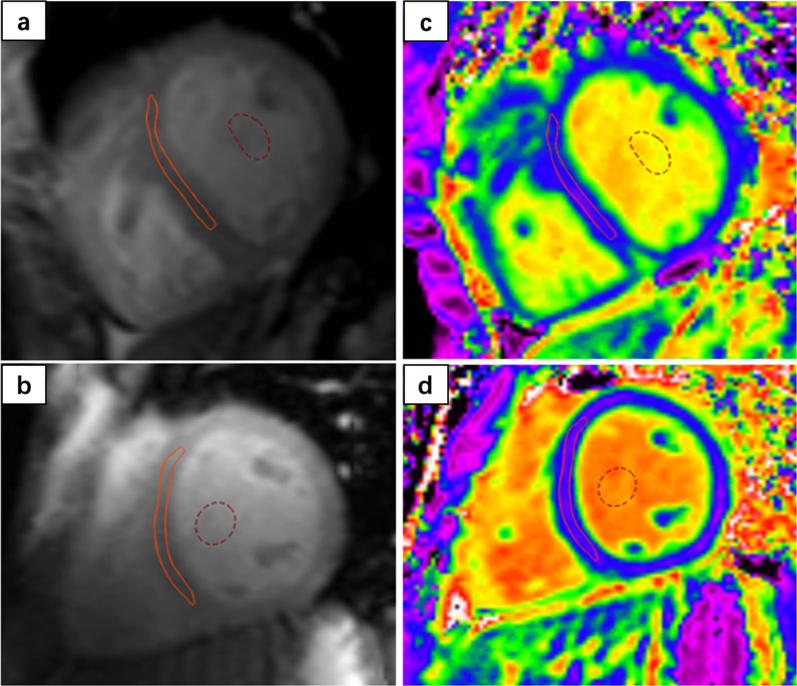 Environmental Tobacco Smoke Exposure Estimated Using the SHSES Scale, and Feature Tracking Computed Tomography‑Derived Left Ventricular Global Longitudinal Strain in Hypertensive Patients
Dr. P Gać and his colleagues from the Wroclaw Medical University studied in patients with arterial hypertension the relationship between environmental tobacco smoke (ETS) and CT derived left ventricular global longitudinal strain (LV GLS) which was calculated by the Medis Strain solution; this work was published in the Cardio Toxicity journal. The amount of ETS exposure was measured based on the Second-Hand Smoke Exposure Scale. The 103 non-smokers with arterial hypertension were based upon the scale divided into 4 groups ranging from no ETS exposure to high ETS exposure.

They showed that indeed the LV GLS based on CT imaging was statistically significantly lower in patients with a higher ETS exposure (P <0.05). The ETS exposure was weakly correlated with a lower peak LV GLS. On the contrary, when the blood pressure of arterial hypertensive patients was effectively controlled, it appeared to be independently protecting the LV GLS from lowering.
For further read: click here